Designing the Visitor Experience at the Founders' Memorial
Why Experience Design
The needs and perspectives of future visitors to the Founders' Memorial are central to the experience design process. As NHB continues to develop the content and detailed design of the Memorial's spaces and experience, this process builds on past engagement efforts where Singaporeans shared their hopes for the Memorial to be a welcoming, integrated gallery and gardens experience for all to enjoy, and to be an evocative space for reflection.
Experience Design Workshops
From August 2020 to March 2021, 11 public workshops were conducted, online and in person, with over 200 Singaporeans from different walks of life. The workshops included research workshops where participants shared insights from their own backgrounds on the desired attributes of the visitor experience at the Founders' Memorial and generated ideas on design features to realise this vision. These research workshops were followed by validation workshops which brought together several participants from the research workshops to build on the earlier insights and develop more detailed design concepts for the Memorial's visitor journey.
Participants from a diverse range of visitor profiles took part in a blend of online and in-person workshops. (Left: Online workshop with parents and family-centric organisations; Right: In-person workshop with seniors)
Key Elements of the Visitor Experience
Through the workshops, the participants affirmed that…
The arrival journey as visitors approach the Memorial building from multiple arrival pathways should prompt visitors to appreciate the natural setting of the Founders' Memorial, and set the tone for the rest of the experience.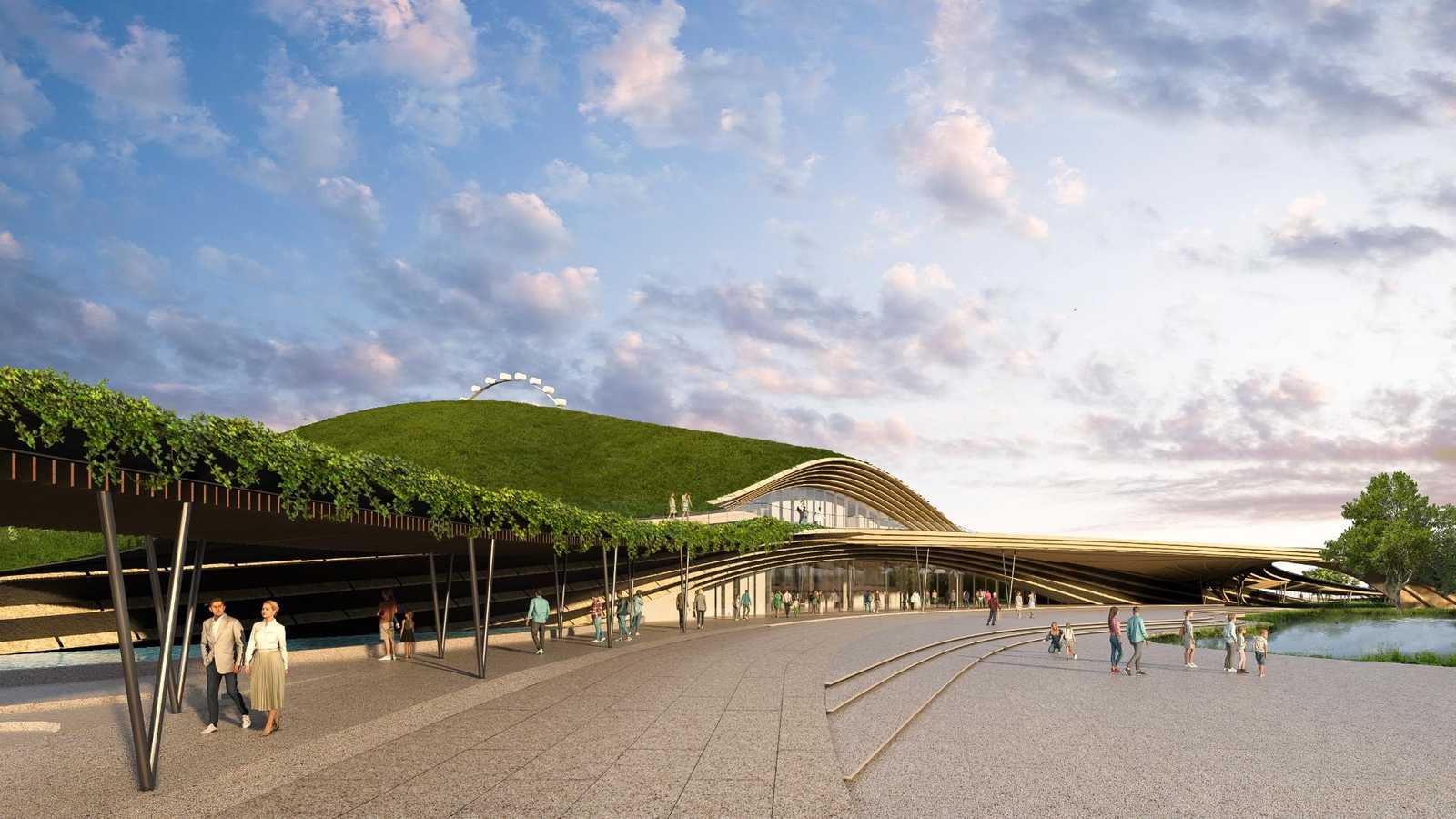 Approach to the Founders' Memorial (Image credit: Kengo Kuma & Associates)
The design elements "should encourage visitors to look up or look ahead at eye-level. This way, they can see the the iconic architecture amidst the natural landscaping."
– Shobana Cheong, 67 years old
"

As a place of reflection, it is important for the Founders' Memorial to set the right tone from the start. We should build up a sense of reflection, helping visitors to understand what this all means for the country."
– Timothy Chan, 30 years old
"I like that regardless of how you came, you still arrive at the same location. The theme of how it matters not where we came from, but where we are going, is good. We are not defined by our backgrounds, and we should be proud of the tone of the 'one-ness' that is being set here."
– Jane Quah, 61 years old
The journey through the Founders' Memorial's indoor spaces, including the interpretive gallery, should incorporate interactive and participatory elements, as well as opportunities for intergenerational exchanges.
"I envision a child asking his grandparent for a personal story to contribute towards his learning journey."
– Pauline Choe, 61 years old
"I would like to interact with artefacts more. We always see them in textbooks, but seeing a 3D or real-life version would be exciting and interactive."
– Eileen Bak Yulin, 17 years old
The Memorial's indoor experience should conclude with a view of the evolving city skyline that bridges the past, present and future and encourages visitors to follow through with their aspirations for Singapore.
Viewing Gallery (Image credit: Kengo Kuma & Associates)
"The Viewing Gallery experience is an opportunity for more open conversations about what was, what is, and what could be."
– Liew Wee Wen, 40 years old
"The success of getting visitors to pledge their hopes for Singapore's future depends on how it's carried out…How can people follow through with their pledges?"
– Kenneth Chen, 37 years old
The outdoor garden spaces should offer experiences that are unique to the Founders' Memorial in being an integrated gallery and gardens experience, facilitate social interactions, and be accessible and comfortable in Singapore's climate.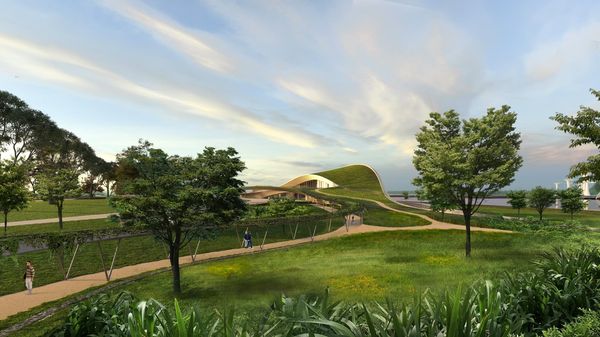 Founders' Memorial Garden (Image credit: Kengo Kuma & Associates)
"Activities should be fun and exciting, but it has to be evident that they are part of the Memorial, and not random programmes thrown into an outdoor space."
– Edmond Wong, 37 years old
"People desire to be outdoors - it is a great relief from our busy metropolitan lives. The connection with people is crucial, the bond: how can outdoor spaces foster emotional connections?"
– Lawrence Ler, 42 years old
National Symbols such as our national pledge and flag resonated with participants, who felt that these could help anchor the visitor journey in our founding values, and how we are united as one people.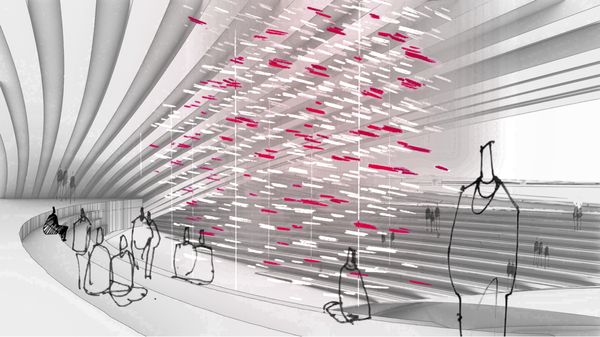 This rendering of a kinetic flag installation is one idea that emerged from the experience design workshops as a dynamic and reflective way our National Symbols could be evoked as part of the Memorial's experience in an open space such as the building's Visitor Centre. Composed of multiple moving red and white elements, participants felt that such an installation could represent the collective voice of citizens, bringing it to life in a poetic way through technology and data. (Image credit: Chemistry Team Pte Ltd and Local Projects LLC)
"You cannot exist by yourself. We are surrounded by and are part of a community that we depend on just as much as it depends on us. We need to work towards our shared version of what we want Singapore to be as moving parts of a greater whole."
– Nur Ruwaidah Adibah Bte Razali, 22 years old
"It signifies a work in progress. It carries the vision, aspirations and ideals that we will keep working towards."
– Alfian Yasrif Bin Kuchit, 43 years old