Media Release
SINGAPORE, 10 JANUARY 2019 – The Founders' Memorial – envisioned to be a space which honours Singapore's founding generation of leaders and celebrates the ideals and values upon which Singapore is built – is another step closer to taking form with the launch of an international architectural competition to call for design proposals. The competition, which opens today, invites interested architects to submit design proposals for the Founders' Memorial, to be constructed at the Bay East Garden.
Founders' Memorial Design Vision and Features
2 Since the project commenced in 2015, the Founders' Memorial Committee has sought ideas and feedback from Singaporeans through public engagement, to shape the concept and select the site of the memorial. The proposed concept of an integrated gallery and gardens experience at the Bay East Garden, as well as the values-driven approach of the memorial were thus established.
3 The Founders' Memorial is envisioned to be a landmark that resonates with Singaporeans in the commemoration of national, community and personal milestones. Through the indoor and outdoor spaces, the design should facilitate a visitor journey that is educational, reflective and inspiring.
4 The Founders' Memorial will feature components and spaces such as permanent and temporary galleries, a visitor centre, multi-purpose rooms, a volunteers' room, and a family room that will cater to visitors with different needs. These will facilitate the programming, which could include learning journeys for students, National Servicemen, and new citizens, as well as talks, workshops, and guided tours. Upon its completion, the approximately 13,700 square metre memorial looks to attract a million visitors each year.
5 The design should also be able to bring out the significance of the Bay East Garden site, which was chosen as it symbolically captures Singapore's journey as a nation [1]. With the site serving as an excellent vantage point to enjoy a panoramic view of Singapore's skyline, there are also plans for a viewing gallery to encourage reflection among visitors.
6 The landscaping of the Memorial will be an important part of the design, as the visitor journey through the Memorial is expected to include outdoor components for programmes. When complete, the Founders' Memorial would be part of, and be seamlessly integrated with, the wider Bay East Garden, allowing easy access to all.
7 Design proposals would need to take into account the connectivity and accessibility of the site. Access to and from the site are currently being planned for, and these include public road access, the Founders' Memorial MRT station (working title), a new pedestrian bridge as well as a water taxi stop. Please refer to Annex A for the Founders' Memorial site map.
8 Mr Lee Tzu Yang, Chairman of the Founders' Memorial Committee, said: "Through the competition, we hope to seek out the best design – one that would honour the founding values of this country and make excellent use of the site. We envision that it will be a space which everyone of all ages can enjoy and relate to, and an icon that Singaporeans can be proud of and share with our future generations. We look forward to seeing how Singaporeans' hopes and wishes for the Founders' Memorial could come to life".
Architectural Design Competition
9 The Singapore Institute of Architects has been appointed by the Founders' Memorial Committee, through the National Heritage Board, to organise the architectural design competition. The competition is open to architects who are registered with the Board of Architects, Singapore, and who have registered for the competition. Foreign design consultants who are registered within their own jurisdictions may also participate and register for the competition. They are strongly encouraged to team up with architects who are registered in Singapore, for Stage One. At Stage Two, it is mandatory for shortlisted foreign design consultants to team up with architects who are registered in Singapore.
10 The competition will be organised in two stages, with the first stage involving the submission of proposed designs for the Founders' Memorial. A Jury Panel will shortlist up to six designs for the second stage, which would involve the further development of these designs, from which the winning design will be chosen.
11 The seven-member Jury Panel for the competition will comprise the following members:
Mr Lee Tzu Yang, Chairman, Founders' Memorial Committee (Chairperson of the Jury Panel)
Mr Daniel Libeskind, Founder and Principal Architect, Studio Libeskind
Mr Jun-ichi Inada, Managing Director, WIN Landscape Planning & Design International
Mr Tai Lee Siang, Executive Director (BuildSG), Building and Construction Authority, Singapore
Dr Kiat W. Tan, Corporate Advisor, Gardens by the Bay, Singapore
Ms Fun Siew Leng, Chief Urban Designer, Urban Redevelopment Authority, Singapore
Ms Chang Hwee Nee, Chief Executive Officer, National Heritage Board, Singapore
12 Singaporeans will also have opportunities to take part in engagement workshops in May 2019 to hear more about, and offer views on the designs shortlisted in the second stage of the competition. The winning design will be announced at the start of 2020, and it will also be showcased through a public exhibition. More details on the engagement sessions and public showcase will be shared closer to the dates.
[1] The panoramic view of the evolving cityscape, is a nod to Singapore's urban planning; the site on reclaimed land along the Marina Reservoir reminds us how we dealt with our water and land constraints; and the Gardens' association reflects our development as a 'Garden City'.
– END –
---
For media queries, please contact:
Elizabeth Tang
Manager, Strategic Communications & Digital
National Heritage Board
Contact: 6332 3921
Email: Elizabeth_TANG@nhb.gov.sg
Jonathan Goh
Assistant Director (Marcoms), National Museum of Singapore
National Heritage Board
Contact: 6332 3958
Email: Jonathan_GOH@nhb.gov.sg
---
About the Founders' Memorial
The Founders' Memorial will commemorate the values and ideals exemplified by the late Mr Lee Kuan Yew and Singapore's first generation leaders, as well as other key personalities who played important roles in Singapore's path to independence, and in the early years of Singapore's nation-building process. The Memorial's narrative will take a values-driven approach as guided by its concept, which was derived from the Founders' Memorial Committee's engagement with Singaporeans in 2015 – 2017.
Envisioned as an integrated gallery and gardens experience at the Bay East Garden, the Memorial aims to both commemorate how independent Singapore came to be, and inspire Singaporeans to commit themselves to contribute towards the nation's future.
The Memorial is currently in its second stage of development, and the Committee will continue to engage Singaporeans to gather their views on its design. More information on the Founders' Memorial is available at foundersmemorial.sg.
ANNEX A
Founders' Memorial Site Map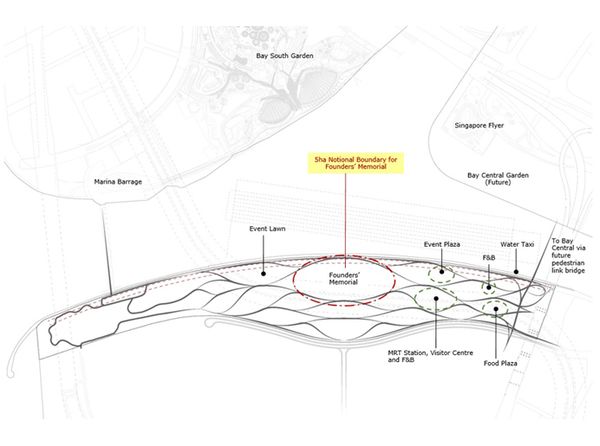 ANNEX B
Architectural Design Competition Schedule
Activity

Completion Date / Time

1

Announcement of Design Competition

(Stage One competition period: 12 weeks)

10 January 2019 (Thu)

2

Briefing and Site Visit

(Interested participants are strongly encouraged to attend)

28 January 2019 (Mon), 10 am

3

Closing date for registration

15 February 2019 (Fri)

4

Date and time for Stage One submissions

5 April 2019 (Fri) by 12 noon (GMT +8)

5

Notification and confirmation of shortlisted teams and entries for Stage Two

Facilitated public consultation workshops for shortlisted entries

May 2019

6

Date and time for Stage Two submissions

30 September 2019 (Mon) by 12 noon (GMT +8)

7

Presentation of Stage Two submissions to Jury Panel / Selection of winning design

End October 2019

8

Announcement of winning design /

Public exhibition of Stage Two submissions

January – February 2020
Note: Dates may be subject to change. Any changes would be made known to competitors in advance.