Ordinary Items, Extraordinary Stories
Have an artefact or story like theirs? Contribute
here.
Keep Them Coming
Check out some of the contributions that we have received so far.
Mr Cheng Choon Eng shaking hands with Mr Jek Yeun Thong in recognition of his involvement in the Queensway Consultative Committee
Active in the grassroots since the 1960s, Mr Cheng worked with founding leaders like Mr Jek Yeun Thong and Mr Othman Wok. He was also an active volunteer who organised events like National Day celebrations to bring his neighbourhood together and was part of his constituency's Civil Defence volunteer unit. In 1986, he received a certificate of appreciation recognising his dedicated voluntary service to the Resident's Committee.
Mr Au Seck Ngee and HDB documents from his family's first flat
Mr Au and his family moved into their first HDB flat before he enlisted into National Service. As the eldest son, he and his mother co-signed their lease. Moving away from the familiar surroundings of their kampung was a big step for the family. Before upgrading to a 4-room flat, they applied for a 3-room flat due to financial concerns. As a family that conversed mainly in dialect, they relied on the representatives from HDB to explain the clauses printed in English.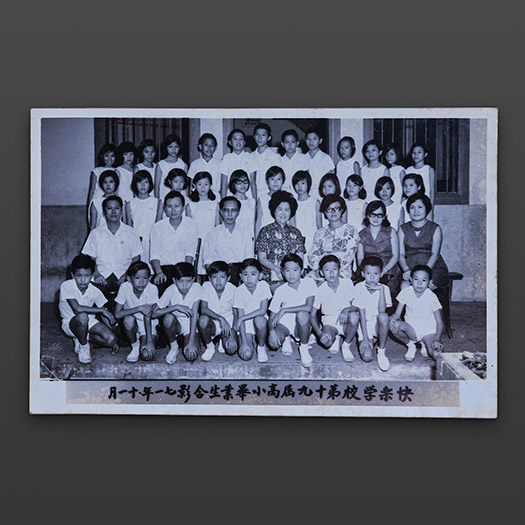 Mdm Lin Ming Ju with one of the graduating cohorts of Happy School
Dr E Tai recalls her mother Mdm Lin Ming Ju as a form teacher at Happy School from the 1950s to 1970s. Mdm Lin also initiated and taught classes in performing arts for students at the school. The school was set up by two cabaret girls of Happy World to bring education to the children of Geylang.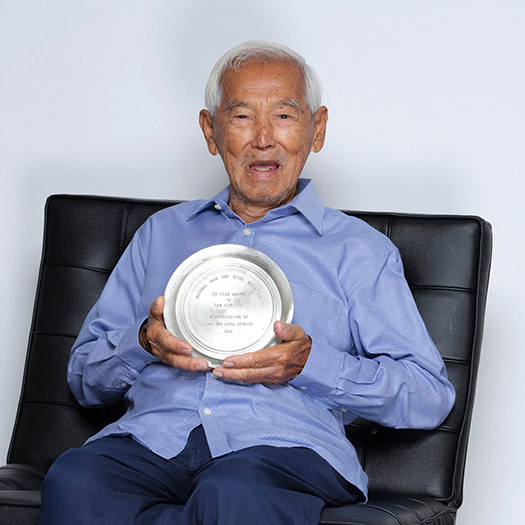 Mr Tan Kim Soo and his Long Service Award from National Iron and Steel Mills Pte Ltd
National Iron and Steel Mills Pte Ltd was the first factory that opened at Jurong Industrial Estate. Being a technician there was a dangerous job. Mr Tan had to climb heights and witnessed many workplace accidents and to protect his lungs, he used to breathe through a moist towel during work and took regular walks at MacRitchie Reservoir, and swam at the East Coast Lagoon after work. He also took on extra shifts to support his family and never talked about his accomplishments at work. Until today, his daughters look up to him for his grit and humility, and the care he showed his family over the years.
Mdm Zainab and her soldering tools
Mdm Zainab joined Rollei when she was just 16 years old, where she ensured the quality of camera parts were in order before they were assembled. As Singapore's economy grew and evolved, experience at Rollei proved very useful as she transitioned to other companies such as Asahi, Team and Connor Peripherals, where she quickly adapted and picked up new skills like wire bonding and soldering on the job.
INTRODUCTION
Our Nation-Building Years Told Through Artefacts
The 1950s to 1970s was a time of transformation for Singapore.
Our founding leaders envisioned a multicultural Singapore. They dreamed big, boldly turned challenges into opportunities, and exemplified integrity and service to others before self.
Our fledgling nation would not have been built if not for the contributions of Singaporeans from all walks of life who rallied behind our leaders and adapted to changes, living out the founding values themselves.
The artefacts you see in this exhibition bear witness to these founding stories. They reveal how values from more than 50 years ago continue to stand us in good stead for challenges of our generation, such as COVID-19. Look out also for the National Day songs we sing that capture the spirit fo these values.
Chapter 1
Stand Up for Singapore
Our nation-building years saw countless acts of selflessness and sacrifice. Students, housewives and labourers, among other groups, demonstrated a spirit of gotong royong (community cooperation), standing up in response to various calls to clean up the city, build roads or contribute to building funds.
This sense of community and togetherness lives on today in our battle against COVID-19. We see this – whether in individual acts of adhering to safe management measures, in essential service workers soldiering on, or in the many ground-up initiatives to support others.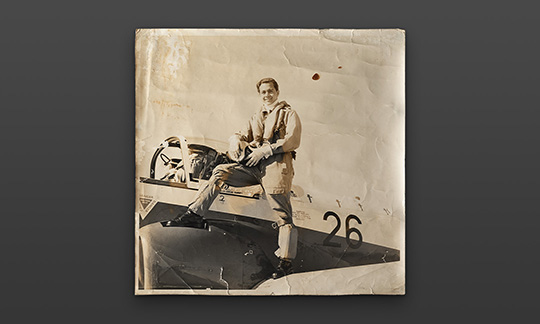 Defending Singapore
As a newly independent nation, Singapore faced pressure to build up its defence fast and early generations of Singaporeans bravely stepped up to the plate.


VIEW FULL STORY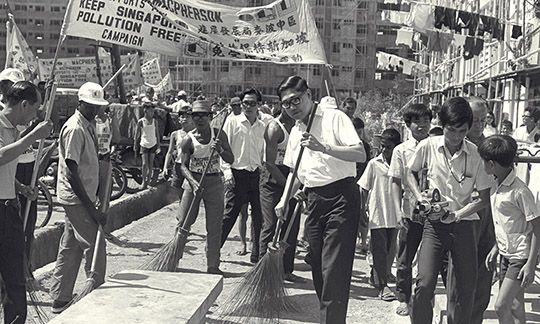 Caring for the Community
Initiatives like the Keep Singapore Clean campaign and Gotong Royong project were just some ways people came together for their community and country.
VIEW FULL STORY
CHAPTER 2
One People, One Nation, One Singapore
Multiculturalism has been foundational to Singapore ever since we attained self-government in 1959, and helped us navigate through times of communal tension in the lead up to independence.
Our founding leaders rallied Singaporeans to set aside differences and stand together as one united people.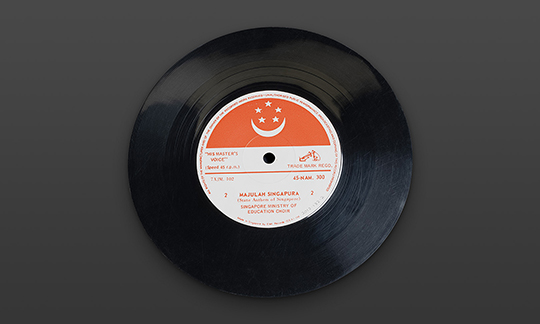 Defining Our Nation
The first of our National Symbols was introduced in 1959. They remind us of the values we stand for as one Singapore and bring us together.


VIEW FULL STORY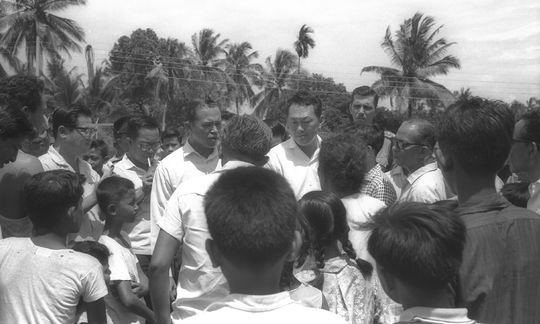 Fostering Racial Harmony
During the race riots in the early 1960s, Singapore relied on our founding leaders and the community to champion multiculturalism and bring people together as one.
VIEW FULL STORY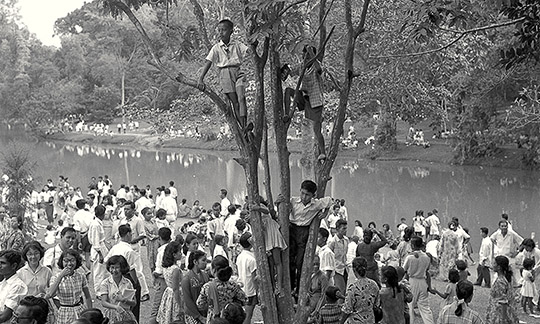 Cultural Concerts for All
Performances were a way to introduce the different cultures in Singapore to the people and promote greater appreciation of our diversity.
VIEW FULL STORY
Chapter 3
We're going to show the world
what Singapore can be
Our founding leaders had the vision of transforming our economy and showing the world that Singapore was open for business. The dream of industrialising Singapore was easier said than done. To achieve this, our founding leaders and the people had to be bold, innovative and open.
This set our foundation as a country and continues to shape the way we respond to change today.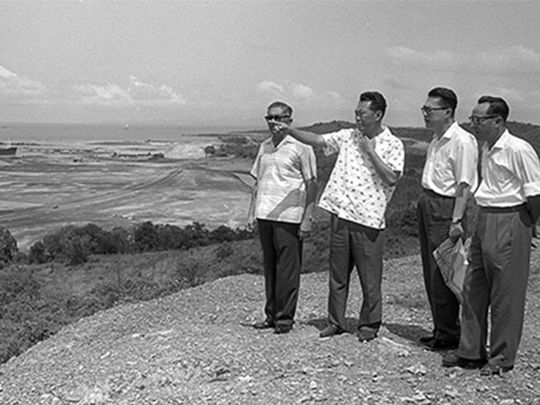 Goh's Folly
What was thought to be Goh's Folly turned out to be a successful effort to grow Singapore's economy.
VIEW FULL STORY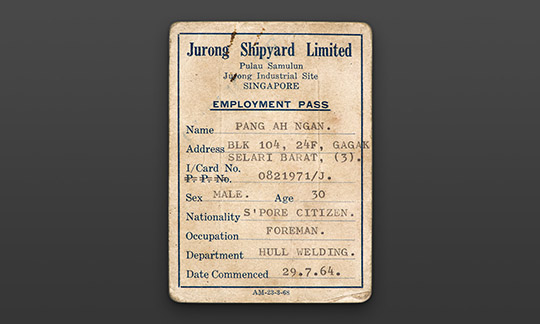 The Future of Shipping
The announcement of the British military withdrawal in 1967 was not only a challenge to Singapore's defence but economy too. Singapore had to pivot quickly and our shipping industry became even more important than before.
VIEW FULL STORY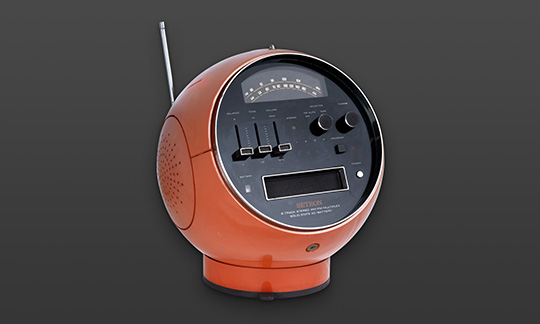 Proudly Made In Singapore
With multinationals and manufacturing companies setting up operations in Singapore, made-in-Singapore products soon became household names and became recognised for their quality.


VIEW FULL STORY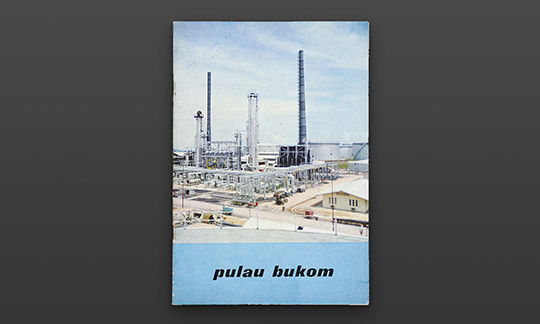 Opening Our Doors to the World
While Singapore actively sought foreign investments, our leaders never compromised on pollution control.
VIEW FULL STORY
Chapter 4
Tomorrow's Here Today
What would our neighbourhoods look like without our HDB flats? What would this City in a Garden be without its roadside trees?
Our founding leaders paid close attention to the details of Singapore's landscape and worked together with Singaporeans to shape much of these familiar sights that we enjoy today. Those early years of our nation's development required taking bold steps to deliver on home ownership at a scale never seen before. All of this helped realise Singapore's vision of a Garden City, bringing the cities of tomorrow to Singapore today.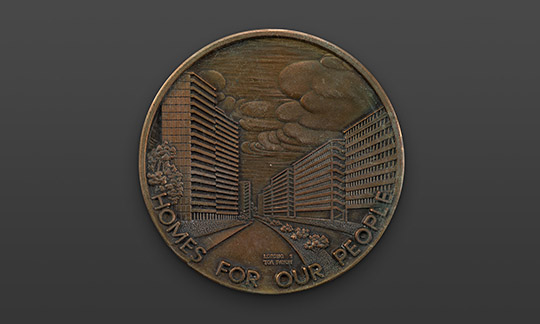 Homes for the People
Independent Singapore's public housing programme was an ambitious one. Many had to adapt to new ways of living and found homes in new towns.

VIEW FULL STORY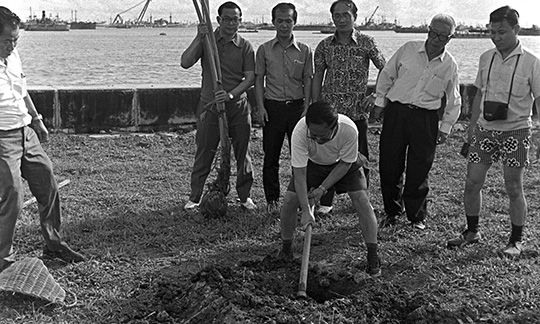 Turning Singapore into a City in a Garden
Safeguarding our natural environment and the greening of Singapore was always a priority, even during our early nation-building years.
VIEW FULL STORY
Enrich Our Memorial with Your
Stories and Artefacts
Find out how you can contribute to our growing collection.